(m) + charles beach INTERIORS
470 Atlantic Avenue, 4th Floor
Boston, Massachusetts 02210 USA
508.361.7030
---
---
---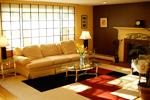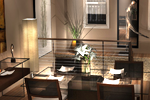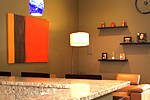 (m) + charles beach INTERIORS | 470 Atlantic Avenue | Boston, Massachusetts 02210 USA | 508.361.7030
---


DINING ROOM GALLERY
The Dining Room is one of the most social and important gathering spaces in any home. It commands a very prominent place in the home and as such should be strong and prominent.

The goal of the interior design of any Dining Room is the creation of a space that brings friends and family together in an elegant and inviting atmosphere. The design of the Dining Room should maintain continuity with the rest of the home so as to compliment the adjoining rooms.

Obviously one of the most important elements is the Dining Room table. Style is important but scale is vital. Too large a table and the Dining Room is dwarfed and cramped; too small a table and the Dining Room looks ungainly.

The Dining Room is one room where lighting is absolutely paramount. Dining is a social event and the ability to create moods with lighting is essential. A main light over the table is necessary along with supporting fixtures such as recessed lights and/or wall sconces. For complete lighting control all of the fixtures should be on dimmers.