(m) + charles beach INTERIORS
470 Atlantic Avenue, 4th Floor
Boston, Massachusetts 02210 USA
508.361.7030
---
---
---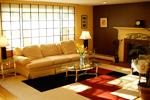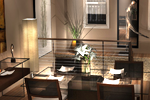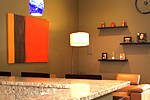 (m) + charles beach INTERIORS | 470 Atlantic Avenue | Boston, Massachusetts 02210 USA | 508.361.7030
---


ECLECTIC GALLERY
Eclectic style is defined by an exuberant self-confidence. The eclectic designer knows what works together by seeing relationships. An eclectic room may be defined by play with color, shape or function. It is a light-hearted style that is never boring. An eclectic style is full of the unexpected, with hints of at least two of the other main styles included.

An eclectic decorating style is easiest to define by what it is not. Eclectic style doesn't rigidly adhere to any one major style. It is characterized by a freedom of expression and a vibrant individuality.

Eclectic style is also great for those individuals who love too much. For example, if you love the richness of Asian and the serenity of contemporary, you may find these two styles combine in a unique way in your personal eclectic decorating style.

However, eclectic decorating is not a jumble of whatever catches your eye. It only works when the basic principles of design are understood and work together to create a unified design. These five principles are: line, color, texture, mass and form. Think of your eclectic room as a work of art composed of these five basic elements and your unique decorating style will be spectacular.